Laurence J. Hyman is Of Counsel to Canady + Lortz LLP.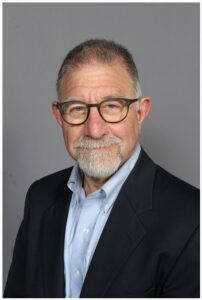 Laurence J. (Larry) Hyman focuses his practice on biotechnology patenting, strategic planning and counseling, technology licensing, intellectual property due diligence, patent portfolio evaluations, and portfolio management. Mr. Hyman also advises clients on compliance with reporting requirements for research conducted under federal funding. Mr. Hyman has represented a wide variety of clients, including the U.S. Government, universities and research institutes, start-up and medium sized biotechnology companies, venture capital groups, and pharmaceutical companies. Mr. Hyman has served since 2011 as a reviewer of grant applications on therapeutics, diagnostics, and medical devices for the University of California, San Francisco, Clinical and Translational Science Institute ("CTSI") and was recognized in 2015 as an "Outstanding Advisor" for his contributions to CTSI's Catalyst Awards Program. Mr. Hyman also serves as a reviewer of applicants to the California Life Sciences Association's "FAST" Advisory Program for start-ups. Mr. Hyman was recognized as a 2011 "Top Patent Prosecutor for Pharmaceuticals-Biotechnology" by the patent analytics website PatentBuddy.com.
Mr. Hyman's patent and licensing work has encompassed biologics (particularly antibody- and cytokine-based targeted therapeutics), protein chemistry, nanoparticles, liposomes, biochemistry, molecular biology, glycobiology, RNA interference, immunology, human and animal vaccines, tissue engineering, plant biology, agricultural methods and compositions, transgenic animals, plants and bacteria, biofuels, personalized medicine, enzymology, nanotechnology, stem cells, food coatings and processing, drug administration, high throughput screening, water purification, imaging methods, radiation administration, and microfluidic and medical devices. A number of the patents and applications he has written on inventions by universities and research institutions have been licensed by pharma companies and have supported substantial investments in clinical development.
Before becoming Of Counsel to Canady + Lortz LLP, Mr. Hyman was a partner at Townsend and Townsend and Crew LLP, a national, IP-focused firm (now part of Kilpatrick Townsend & Stockton LLP). Prior to joining Townsend, Mr. Hyman was with the National Institutes of Health's Office of Technology Transfer, where he served as the lead patent advisor for the General Medicine Workgroup. He is a member of the bars of California and New York and is a registered patent attorney. Mr. Hyman earned his law degree from the Boston University School of Law, his M.S. in Biology from Georgetown University, and his A.B. in Biological Sciences from the University of Chicago.
Education
Boston University School of Law, JD
Georgetown University, MS in Biology
The University of Chicago, AB in Biological Sciences

Admissions
California Bar
New York Bar
Massachusetts Bar (voluntarily on inactive status)
U.S. Supreme Court
U.S. Court of Appeals for the Federal Circuit
U.S. Court of Appeals for the D.C. Circuit
United States Patent & Trademark Office

Professional Associations
Association of University Technology Managers
California Lawyers Association, Intellectual Property Section

Patents Issued From Applications Written By Mr. Hyman

US 11,376,200 Methods and kits for using blocked 2-AA for glycan analysis
US 11,371,998 Devices and kits to improve reduction or labeling of carbohydrates
US 11,311,650 Devices for supporting regeneration of body tissues, and methods of making and using them
US 11,111,268 Use of quaternary and tertiary ammonium cations to denature proteins
US 11,092,595 Use of bispyridines to improve labeling of nucleophiles
US 11,035,862 Use of mild electrophiles to reduce artifacts in analyzing glycans released from glycoproteins or glycopeptides
US 11,002,742 Compound for labeling amine-containing compounds, and its use
US 10,953,081 Methods and compositions for inducing an immune response to Pseudomonas aeruginosa pulmonary infections
US 10,709,811 Surgical grafts for replacing the nipple and areola or damaged epidermis
US 10,371,703 Antibodies that inhibit Long Interspersed Element-1 retrotransposon endonuclease activity
US 9,675,786 Devices, systems and methods for diverting fluid trapped in a solid organ
US 9,119,837 Use of sEH inhibitors as analgesics
US 9,115,196 Antibodies and immunotoxins that target human glycoprotein NMB
US 9,089,601 Pre- and intra-operative imaging of bladder cancer
US 8,907,060 Mutated Pseudomonas exotoxins with reduced antigenicity
US 8,871,906 Deletions in domain II of Pseudomonas exotoxin a that remove immunogenic epitopes
US 8,809,502 Mutated anti-CD22 antibodies with increased affinity to CD22-expressing leukemia cells
US D710,514 Light therapy device
US 8,725,225 Intraoperative imaging of renal cortical tumors and cysts
US 8,513,302 Reducing nephropathy with inhibitors of soluble epoxide hydrolase and epoxyeicosanoids
US 8,445,216 Antibodies and immunotoxins that target human glycoprotein NMB
US 8,399425 Alleviating neuropathic pain with EETs and sEH inhibitors
US 8,389,030 Nematicides from Juglandaceae and methods of use thereof
US 8,263,651 Use of cis-epoxyeicosatrienoic acids and inhibitors of soluble epoxide hydrolase to treat conditions mediated by PBR, CB2, and NK2 receptors
US 8,242,170 Use of cis-epoxyeicosatrienoic acids and inhibitors of soluble epoxide hydrolase to reduce cardiomyopathy
US 8,202,507 Assay for vitamin B12 absorption and method of making labeled vitamin B12
US 8,198,063 Rapid deglycosylation of glycoproteins
US 8,124,085 Bispecific binding agents for modulating biological activity
US 8,084,220 Methods for detecting the presence of expanded CGG repeats in the FMR1 gene 5′ untranslated region
US 8,039,593 Antibodies and immunotoxins that target human glycoprotein NMB
US 7,982,011 Mutated anti-CD22 antibodies and immunoconjugates
US 7,968,298 Use of herpesviruses, herpesvirus proteins and nucleic acids encoding the proteins to inhibit CCR5-tropic HIV-1 infection and replication
US 7,951,831 Use of inhibitors of soluble epoxide hydrolase to synergize activity of COX and 5-LOX inhibitors
US 7,927,635 Nematicides from Juglandaceae and methods of use thereof
US 7,855,053 Methods for detecting the presence of expanded CGG repeats in the FMR1 gene 5′ untranslated region
US 7,777,019 Mutated anti-CD22 antibodies with increased affinity to CD22-expressing leukemia cells
US 7,691,630 Compositions for protecting plants from pathogens
US 7,666,591 Single stranded DNA binding proteins from Archaea and uses therefor
US 7,541,040 Chimeric molecule for the treatment of TH2-like cytokine mediated disorders
US 7,521,054 Reduction of the nonspecific animal toxicity of immunotoxins by mutating the framework regions of the Fv to lower the isoelectric point
US 7,517,849 Inhibition of ABC transporters by transmembrane domain analogs
US 7,470,775 Anti-CD30 stalk and anti-CD30 antibodies suitable for use in immunotoxins
US 7,404,954 Methods of targeting agents to cells expressing the polymeric immunoglobulin receptor
US 7,399,827 Page-4, an x-linked gage-like gene expressed in normal and neoplastic prostate, testis and uterus, and uses therefor
US 7,368,110 Antibodies, including Fv molecules, and immunoconjugates having high binding affinity for mesothelin and methods for their use
US 7,355,012 Mutated anti-CD22 antibodies with increased affinity to CD22-expressing leukemia cells
US 7,193,054 Nanofabrication using actin filaments
US 7,129,332 Anti-EGFRvIII scFvs with improved cytotoxicity and yield, immunotoxins based thereon, and methods of use thereof
US 7,081,518 Anti-mesothelin antibodies having high binding affinity
US 7,060,486 Inhibition of sulfate-reducing-bacteria-mediated degradation using bacteria which secrete antimicrobials
US 7,052,911 Methods of increasing plant yield
US 7,052,703 T-cell receptor gamma alternate reading frame protein (TARP), and uses thereof
US 6,905,822 Methods of diagnosing multidrug resistant tuberculosis
US 6,869,628 Methods and formulations for providing gloss coatings to foods and for protecting nuts from rancidity
US 6,855,810 Ligands directed to the non-secretory component, non-stalk region of plgR and methods of use thereof
US 6,852,832 Single stranded DNA binding proteins from archaea
US 6,720,167 Insecticidal bacteria, and methods for making and using them
US 6,696,064 Methods of protecting vasculature from damage by diphtheria toxin-and pseudomonas toxin-based immunotoxins during therapy
US 6,630,197 Inhibition of sulfate-reducing-bacteria-mediated degradation using bacteria which secrete antimicrobials
US 6,582,961 Methods of protecting plants from pathogens
US 6,570,069 Nucleic acids encoding plant inhibitors of apoptosis and transgenic cells and plants expressing them
US 6,511,824 Selective assay for determining the identity of live microorganisms in a mixed culture
US 6,402,914 In-situ loader for electrophoretic gels
US 6,191,103 Methods for enhancing thrombolysis in a mammal